Handling electricity can be dangerous, don't go at it alone. Electrical repair services should always be handled by a professional. Brian's Pro Handyman can assist in tackling the light switch that won't work, outlet covers that are cracked or missing pieces or light fixtures that need an update. We can even install new lights in pantries, storage spaces and rooms that need brightening.

With over 10 years' experience doing electrical maintenance and light electrical type repairs, Brian's Pro Handyman is your trusted source for those annoying, quality-of-life fixes that you just haven't found time to do. Don't sit in the dark or deal with short-term fixes like phone lights or desk lamps – let us help make your home a pleasant place to be.

When it comes to electricity, some jobs are even too big for us. Rest assured that if that happens, we will refer you to a licensed electrician when you need one. We will never attempt a repair without full confidence that we can take care of the entire problem, saving you time, money, and frustration. If we aren't sure, we will verify before continuing.

We can even do commercial lighting repairs! Does your shop or barn need an update? Is your business suffering from underlighting? We have 20+ years of commercial lighting repairs and troubleshooting experience, we can handle almost anything. We are fast and safe, giving you more time to enjoy your home and less time trying to find your way in the dark.
When it comes to DIY, electricity is not a good idea. An indoor plug can cause extensive damage to both your home and your wallet if not handled correctly. Finding someone you can trust to handle these kinds of repairs is of the utmost importance. We are a local, family-run handyman business located in Mineola, Texas. We service the surrounding areas including Tyler, Quitman, Lindale and many others. You can trust us with your electrical needs.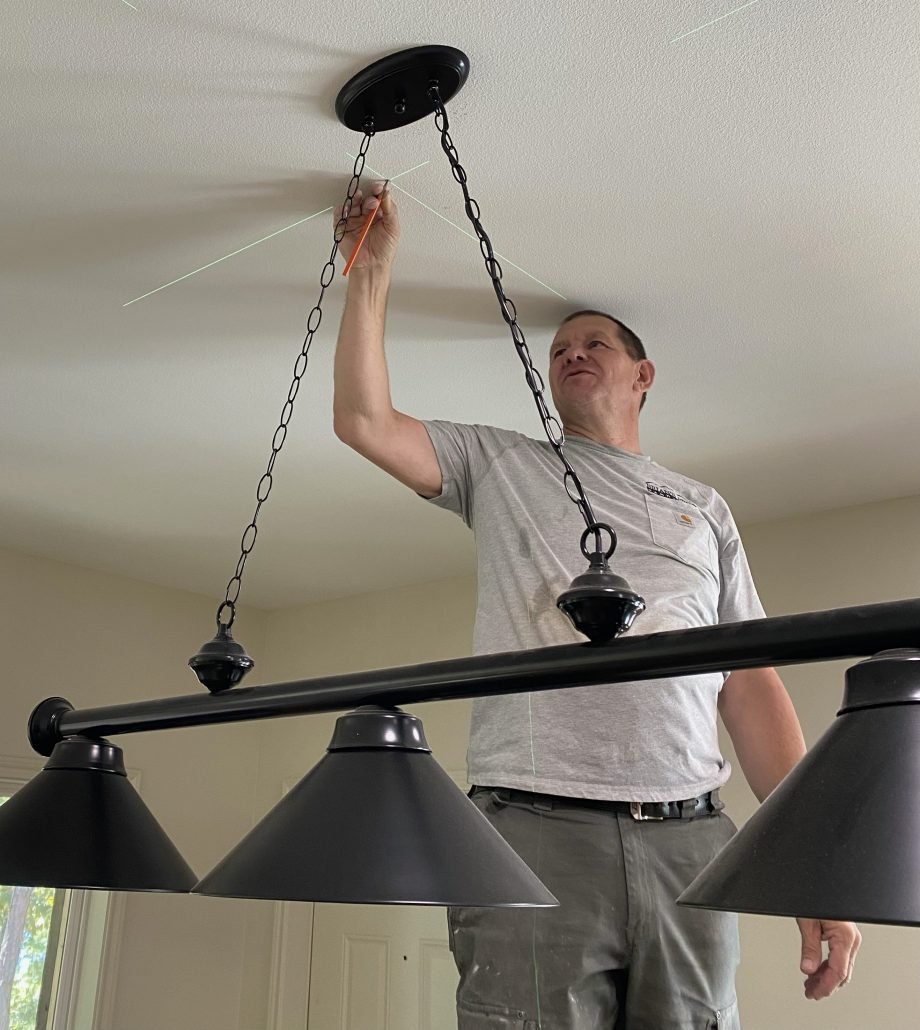 Low Voltage Electrical Jobs
It can be challenging to know when an electrician is needed and when to call a handyman. Many times, Brian's Pro Handyman can determine whether we can handle a request without needing to schedule a visit using our estimate form. By sending us a picture and a brief description of your problem, we can let you know if it's something we can handle. We respond to most requests within one business day.
Some things that are almost always within our ability to repair or install include:
·      Outdoor Ground Lights
·      Cable TV
·      Phone and Internet hard wiring
·      Outdoor lighting
·      Outlet Cover Replacements
·      Light switch Cover Replacements
Internet and Security Camera Set Up and Troubleshooting
Need a security camera installed? Not sure where to put them or unable to reach the ideal place? Have issues connecting to the internet in different areas of the house? All of these are issues we have not only experienced ourselves but solved for many of our clients. Today, internet is no longer a 'commodity', but a necessary tool to stay in touch with friends and family. It is also a vital part of keeping our homes secure when partnered with wireless security cameras.
While not obvious, security cameras and internet sometimes require wiring. A bad electrical outlet can lead to chasing a problem rather than identifying it. A worn connection can leave you with intermittent loading errors. Through years of trial and error, I can often hunt down the problem and solve it same day, leaving you more time to enjoy cat videos and less time waiting for a movie to download.

From installing and connecting security cameras and programs, to troubleshooting intermittent internet problems, Brian's Pro Handyman can get you back up and surfing the web in no time. Let us help you keep your home safe and your family in touch.