DIY Door Hardware Installation - A Step by Step Guide
Installing door hardware can seem intimidating, but with the right tools and knowledge, it's a relatively easy DIY project. Follow this guide for a step-by-step breakdown of how to install your door hardware correctly and efficiently.
Choose the Right Door Hardware.

The first step to door hardware installation is choosing the right hardware. Consider the size and construction of the door, as well as any additional features you may need such as a frosted glass or Add-A-Locks. Additionally, make sure that the materials match your door's existing style and design. Once you've chosen the right hardware, it's time to purchase it and begin installation.
Pre-Drill Holes for Installation.
Before you begin installation, use a drill to pre-drill holes for the new hardware. Make sure that you are drilling into the doorjamb and not through the jamb. Additionally, ensure that the hole is deep enough to fit the anchor bolts or horizontal mounting screws from your new hardware. Once complete, use a level to check if door hinges and other components are completely flush with each other when installed.
Fit Frame and Strike Plates into Place.
Before you can mount the door hardware, you must fit the frame and strike plates into its designated place. It's important to check that all pieces of drilling hardware fit perfectly before you continue with the installation. Use a measuring tape or ruler to make sure that everything lines up evenly, then secure the strike plate with small screws or nails.When lining up screw holes in a doorknob repair, the drill goes on the floor. This is not a place where a power tool can be used – stripping out the hole or cross-threading is a real threat. If not done correctly by hand, the time necessary to replace it can increase. Over the years, I have developed a 'feel' for it, though it is possible to do it yourself.
Insert the Latch Bolts Into the Edge of The Door
Now that the frame and strike plates have been put in place, you can now insert the latch bolts into the edge of the door. If your door's finish is wood, use a bit large enough to insert into the wood and drill pilot holes for the screws. For doors with metal frames, be careful when inserting and tightening screws as its frame often has thin layers which can be easily damaged.
Finish Up by Fastening in the Handles, Knobs & Final Touches
Finally, you are ready to attach the handles, knobs and decorative trims if needed. Place the plate with holes up against the door edge. Tap 4 small finish nails on each corner of the plate to secure it in place. Then, you can use screws to fasten each handle or knob into the predrilled holes of the plates. If any parts require fitting additional decorative trims, make sure to read the instructions thoroughly beforehand. Once everything is in place andfully tightened, your door hardware installation will be complete!
A Few other suggestions with photos
You know that pesky door that doesn't quite close right? Whether it squeaks, or you must kick it to close or even worse you have to lift a little on the handle to get it click shut, it's easy to ignore – until it isn't. Let us cross out that item on the honey-do list.
We always complete door hardware installations in accordance with the manufacture's methods using the highest quality parts available. My wife and I guarantee the repair for a full year. We stand by our work and know it will last.
We keep your budget in mind. We always look to repair a broken door before considering a replacement. We will always put what's best for our clients above our wallet.
door hardware installation near me, We are based in Mineola, Texas and our service area is roughly 1 hour away.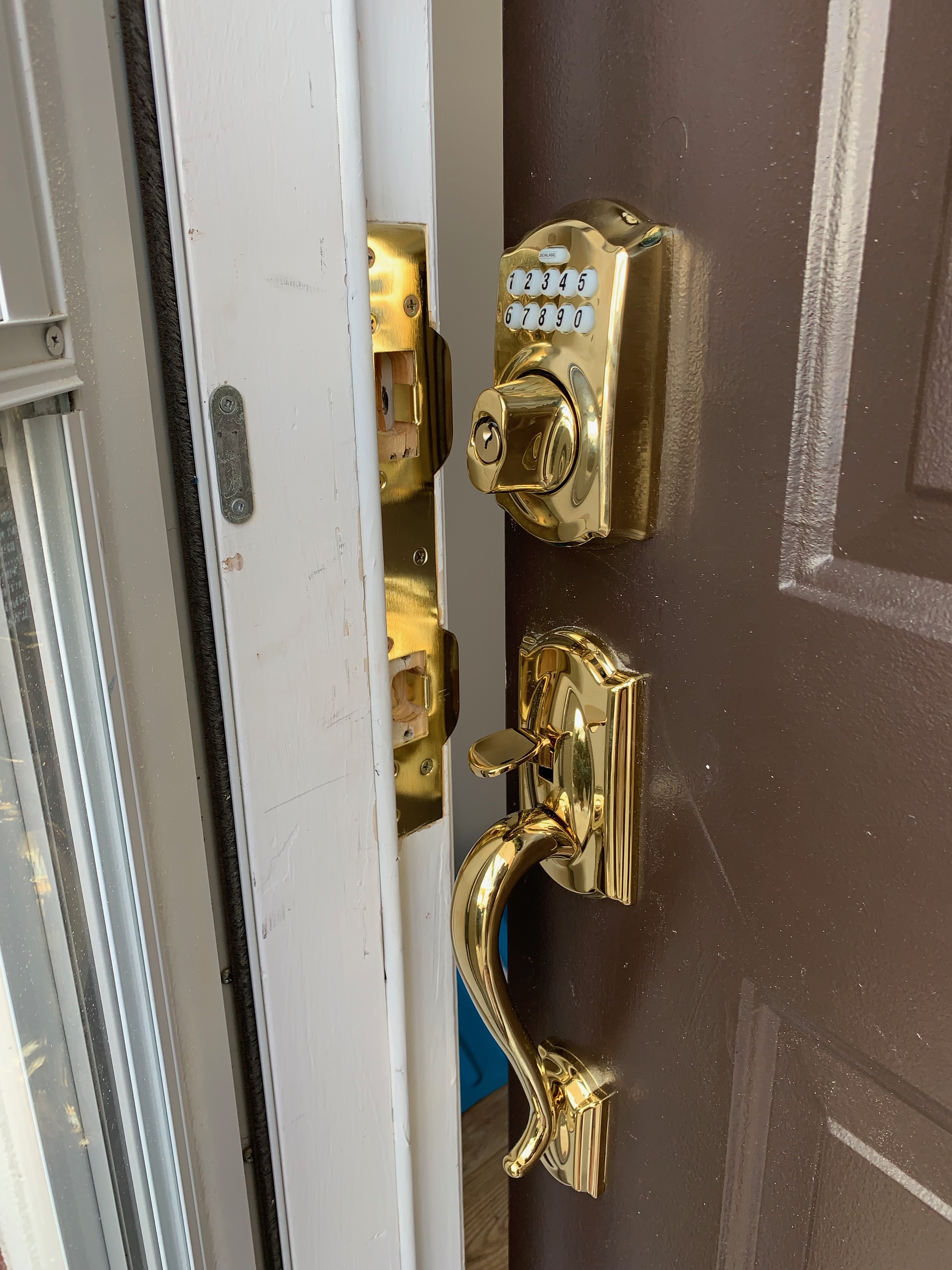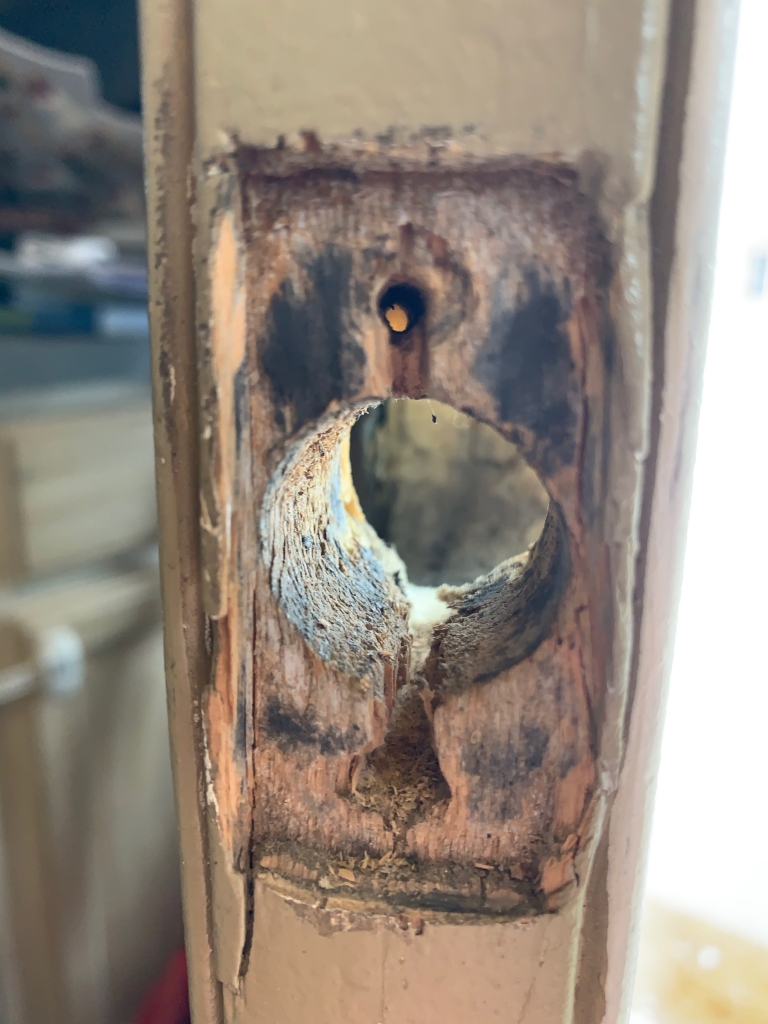 Got a DIYer in your home? Try some of these easy self-solutions:
Do you have a wood screw that is stripped out? Take some wood glue and toothpicks and fill the hole. Once it's dry, cut it flush and replace the screw.
Want to keep your toothpicks for baking or have an extra 3/8th inch wooden dowel left over from an art project? Clear out the holes with a 3/8th inch drill bit, insert the dowel with wood glue and leave to dry. Once done, cut and sand the wood flat, make a 1/8th inch pilot hole and reinstall the door hardware. This makes for a strong repair.
These solutions will work provided the rest of the wood is not rotted and is strong enough to handle the repair. The example photo gives you an idea of what this would not work on.
These same repairs can be used for door hinges as well!
Not ready to do-it-yourself? That's okay! We service Mineola and the surrounding areas of East Texas; including Tyler and Longview.
Installation of barn doors requires a set of tools not everyone has. Brian's Pro Handyman has you covered. From ladders and a laser level to a drill for lag bolts and a good set of Allen wrenches, we've got all the tools to hang a barn door.
A good, experienced helper makes the job go quick, allowing us to take minimal time out of your schedule while giving the quality you deserve. We make sure the door not only is installed correctly but take time to make sure it does not knock on the door or floor trim. Many times, this requires slight modification to secure a 'just-right' fit. We have the expertise and know-how to accomplish this.
Common issues that we have seen and repaired include:
Lag bolts missing the wall studs, leading to doors that don't shut right or are difficult to close.
Improperly installed or missing header board – this causes the door to hit the trim, damaging your home
Doors that have completely fallen out of the wall due to being incorrectly installed
Send us a text with photos, we would love to help make your barn doors look like they were meant to.
How to install a door handle with lock
Does your husband (or wife) want to take repairs into their own hands? Try some of these quick tips for replacing door hardware:
Locate the two screws holding the knob assembly together.
With a Phillips screwdriver remove the screws.
Next, remove the two screws holding the latch assembly in the door edge.
Open the packaging for your new doorknob.
Position the new doorknob with the holes lined up with the door
Tighten the two screws in place, alternating from side to side until the door knob is tight.
This works well when there are no other issues. Worn hinges, out of square doorframe or the door latch no longer lining up with the strike plate requires additional steps. We can help with those.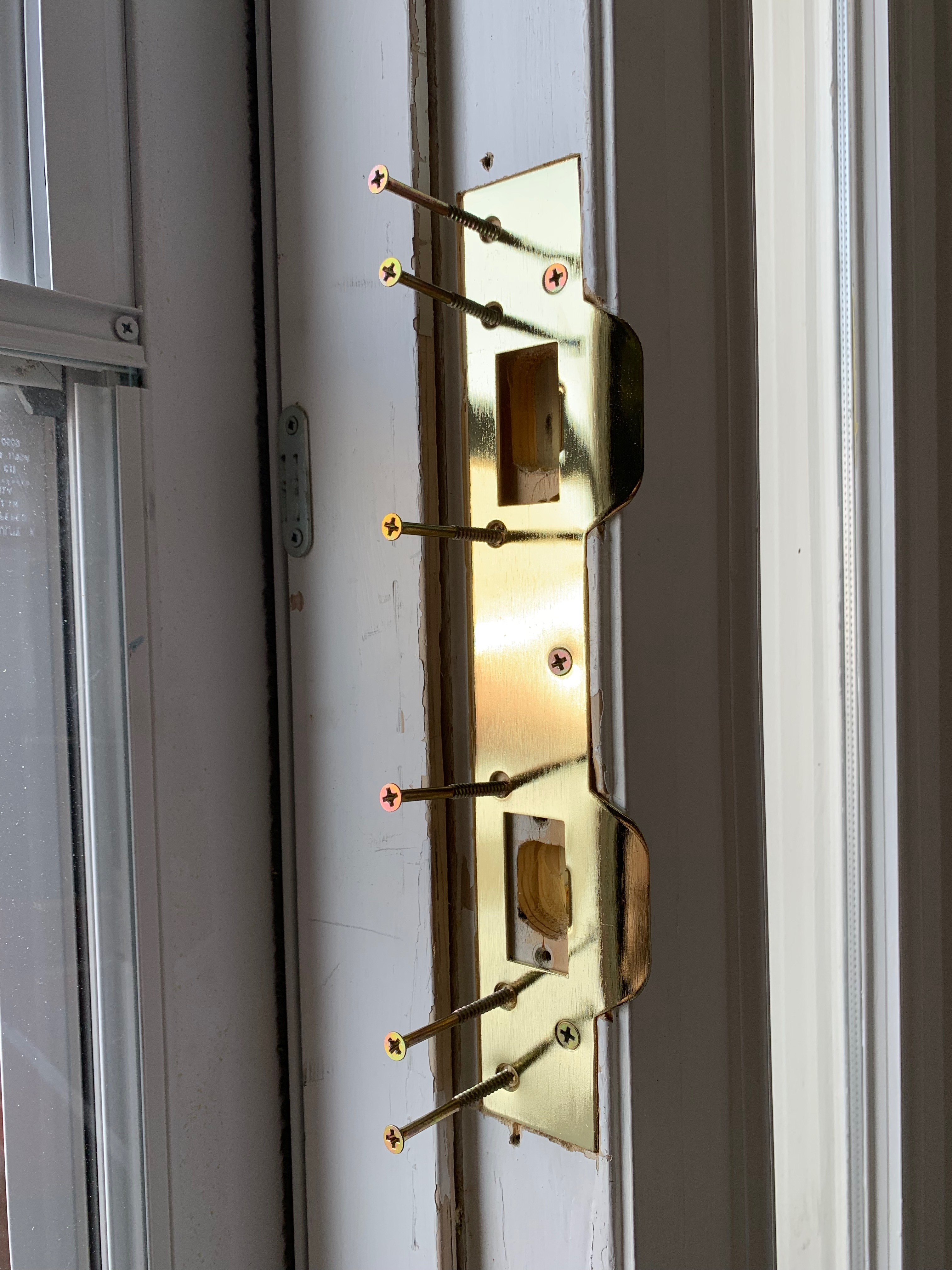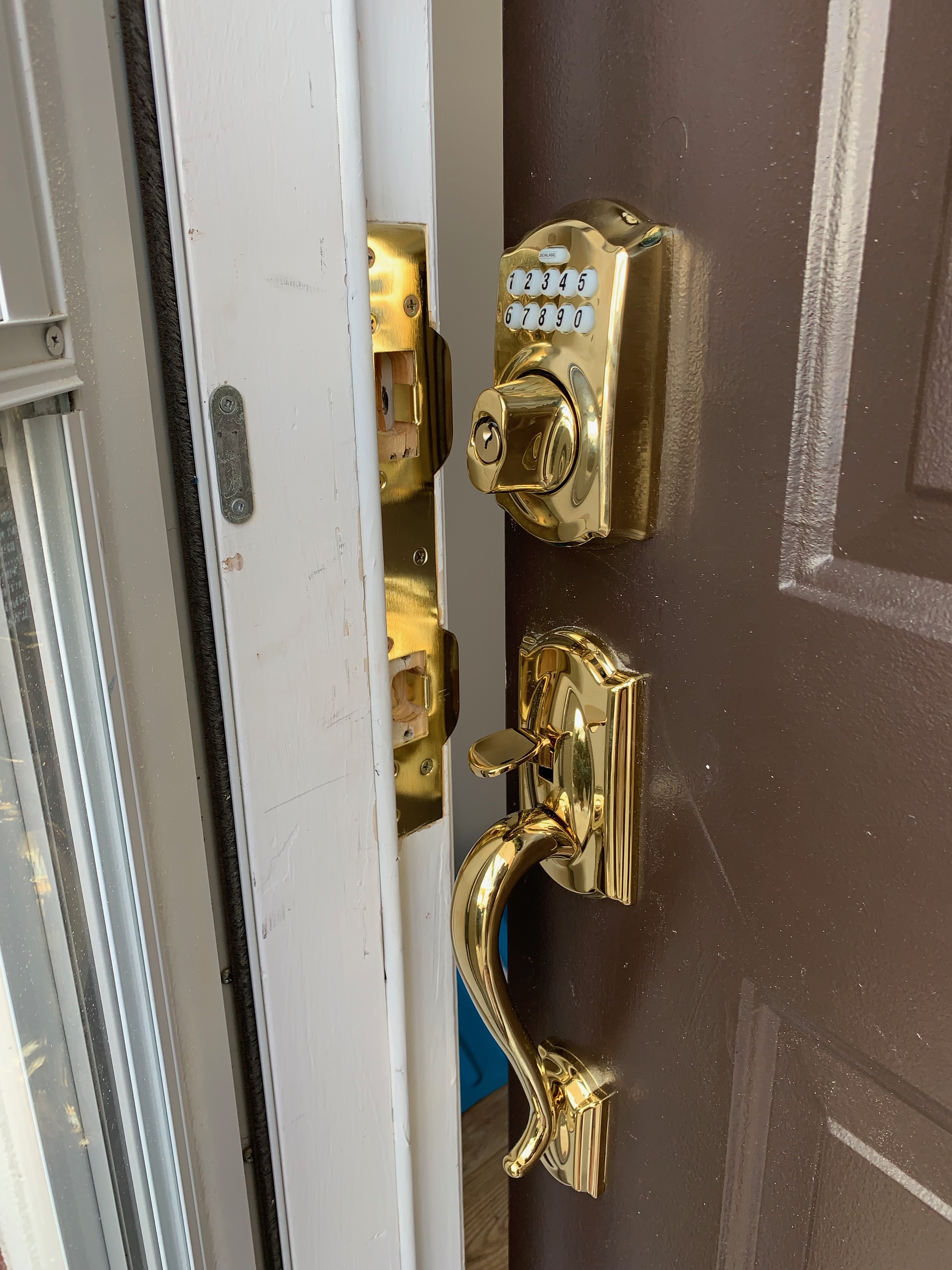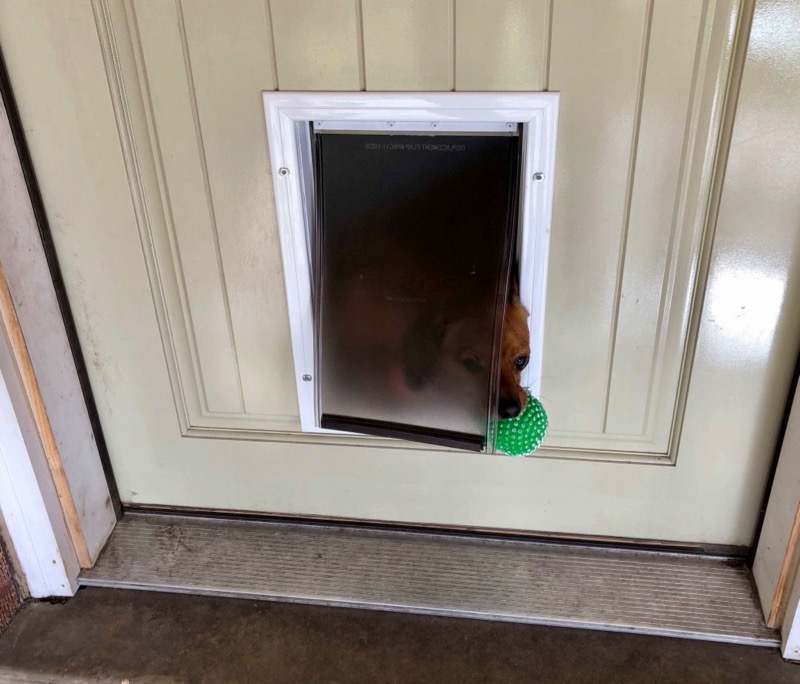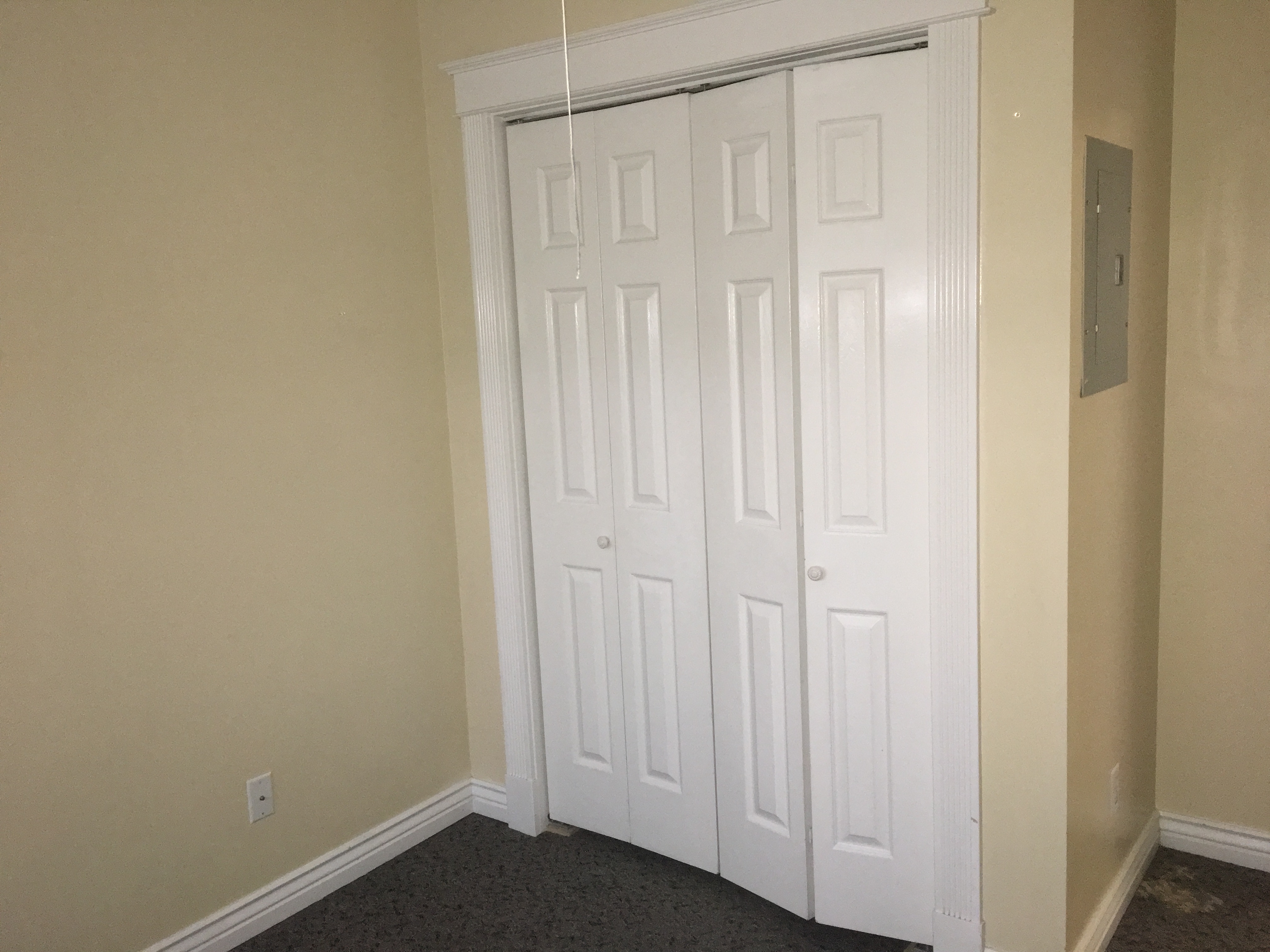 How to line up the screws when installing a doorknob
When lining up screw holes in a doorknob repair, the drill goes on the floor. This is not a place where a power tool can be used – stripping out the hole or cross-threading is a real threat. If not done correctly by hand, the time necessary to replace it can increase. Over the years, I have developed a 'feel' for it, though it is possible to do it yourself.
One trick I use to avoid cross-threading is to turn the screws backwards until a 'click' is both heard and felt. This happens when the screws threads drop into the post base. That indicates that I am in the right position and ready to start turning the screw the right way. I hand turn it three or four times, until it sits there without my needing to hold it. Once that is done, I am able to take the screwdriver to run the screws in the rest of the way.